Governance Review
What is a governance review?
Any governance review will be unique to the organisation and will depend on factors such as the organisation's ownership, legal structure, regulatory environment, culture and the outcomes sought in undertaking a review. As such, our approach is customised for each client's needs. For example, areas of focus in a governance review may include:
Determining if the governance system adds value or is a burden to the organisation;
Addressing a specific issue of concern with the current governance structure such as the number or type of board committees;
Alignment of the governance system with an existing or new strategic direction;
Adoption of leading practice governance in terms of policies and procedures (documentation review);
Compliance with national and international codes and standards.
However, since the underpinnings of a governance framework are common to most organisations, we use our well-known Corporate Governance Practice Framework shown below to guide our approach.
Corporate Governance Practice Framework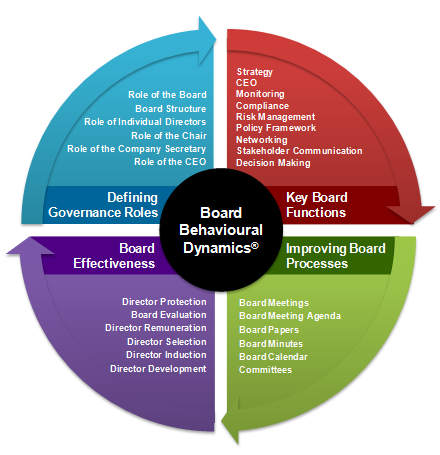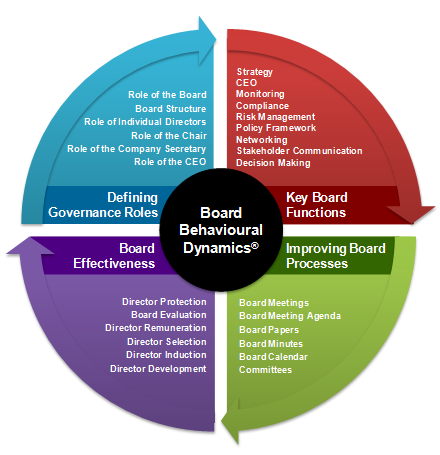 Source: G. Kiel, G. Nicholson, J.A. Tunny & J. Beck, 2012, Directors at Work: A Practical Guide for Boards, Thomson Reuters, Sydney.
Governance documentation review
Since the board is ultimately responsible for all the actions and decisions of an organisation, it will need to have in place specific charters, policies and similar governance documentation to guide organisational behaviour. We can assist your board to review current governance documentation or to develop this essential documentation to ensure it is meeting the needs of the board and organisation as a whole. The documents your board may need to review or develop include:
Board charter – a policy document that clearly defines the roles, responsibilities, authorities and processes of the board and senior management
Risk management policy and framework – principles of good governance require the board to establish a comprehensive system of risk management, risk oversight, compliance, and internal control for the organisation
Board agenda – an agenda that works for the board
Board induction policy and program – board induction is essential to ensuring that new directors become productive contributors to the board as quickly as possible
Board paper policy and procedure – a policy designed to guide management in writing board papers that deliver what the board needs to know
Committee charters – a policy document that clearly defines the scope of each committee so that it can work for the board
Communications strategy – communicate effectively with stakeholders
Whistleblowing policy – a practical policy designed to meet compliance and/or regulatory requirements