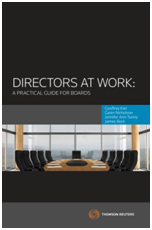 Book: Directors at Work: A Practical Guide for Boards
The long-awaited sequel to Boards That Work: A New Guide for Directors.
Authors: Geoffrey Kiel, Gavin Nicholson, Jennifer Ann Tunny, James Beck
---
Directors at Work: A Practical Guide for Boards is designed to be a tool for directors and boards wishing to implement leading practice corporate governance in their organisations. The book discusses contemporary issues in corporate governance, ways in which boards, directors and their advisers can be effective, and ways to improve their governance processes and procedures.
Authored by leading practitioners and academics in the corporate governance area, Directors at Work: A Practical Guide for Boards, provides practical advice on how to:
ensure your governance activities meet Australian law;
select new directors and form a board;
define the key roles within governance;
identify and operationalise the key functions a board must undertake; implement effective governance processes such as setting board agendas and taking minutes;
assist individual directors and boards continually develop while providing reasonable protection for directors as they go about their duties;
recognise the behavioural dynamics that impede effective governance processes and decision making; and
develop your board charter.
To place your order for Directors at Work, please download and complete the order form and return via email.