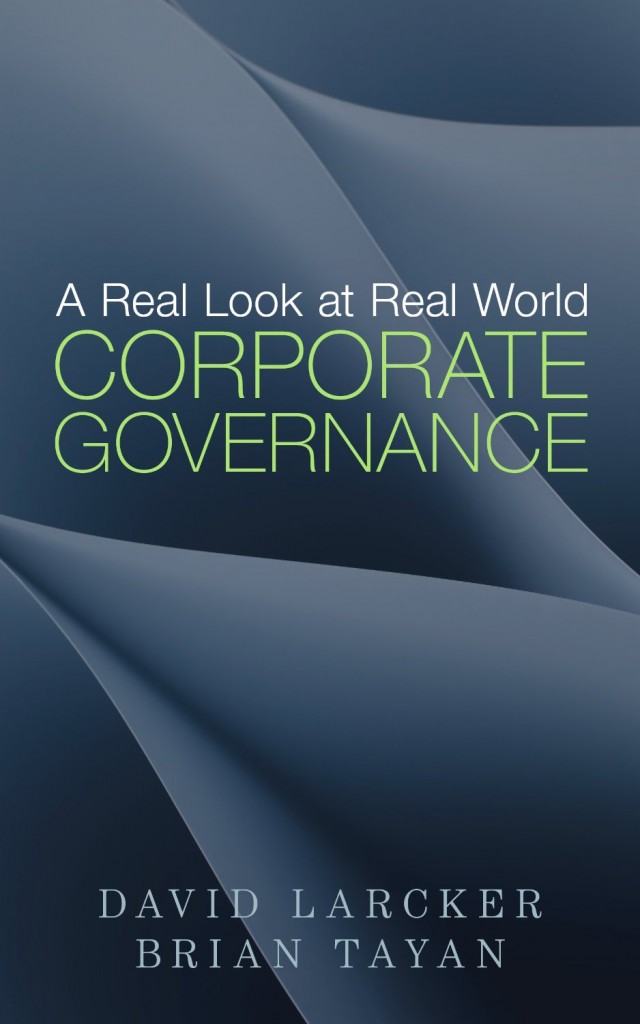 Title: A Real Look at Real World Corporate Governance
Authors: David Larcker and Brian Tayan
Publisher: Larcker-Tayan
Publication Date: 2013
ISBN–10: 0989710114
ISBN–13: 978-0989710114
Formats: Paperback; Kindle
Rating: 4/5 stars
Link: Amazon.com
---
Self-published by two leading corporate governance experts,1 A Real Look at Real World Corporate Governance takes a practical look at issues involving the board of directors, CEO succession planning, accounting and internal controls, and executive remuneration.
David Larker and Brian Tayan's reason for writing the book is stated succinctly in the preface (loc. 92):
In the course of our study, we have noticed certain tendencies among the most vocal 'experts' in corporate governance today. These include the tendencies to simplify decisions that are inherently complex, to prescribe uniform solutions to problems that are anything but uniform, and to be confident that their recommendations are correct when the evidence is anything but conclusive. We wrote this book, in part, to correct these tendencies.
The authors give practical examples of corporate conduct, both good and bad, at companies such as Lehman Brothers, Royal Dutch Shell, Hewlett Packard and Netflix. They also debunk some of the standard notions of corporate governance along the way. For example, with respect to leading practice recommendations on board composition such as having a majority of independent directors, the authors state (loc. 275):
Most of the research says that most of the practices common in boardrooms today do really matter or are too dependent on context to be generalised into a best practice.
That said, the evidence suggests that the quality of the board does matter—the expertise of individual members, their engagement and dedication, and the manner in which they work together and with executives to arrive at a well-informed decision.
Among the provocative questions the authors deal with is whether CEOs are the best directors. While many people believe that current CEOs make the best board members, since they bring with them a mix of managerial, industry and functional knowledge that should be able to contribute to the board of another company, this is not backed by research. Further, a 2011 survey conducted by Heidrick & Struggles and the Rock Centre for Corporate Governance at Stanford University found that 80% of directors who responded believed that current ('active') CEOs were no better than non-CEO board members. The findings are reproduced in the table below.
Survey results: Who are the best directors?
Are active-CEO directors better than average directors?
Yes 21%
No 79%
Are retired-CEO directors better than active-CEO directors?
Yes 55%
No 45%
Are retired-CEO directors better than average directors?
Yes 47%
No 54%
How many years before CEO experience is outdated?
<5 years 26%
5 to 10 years 20%
>10 years 16%
Never 38%
At 158 pages in the paperback edition, the book may be short, but it is written in a clear and accessible style and is a must-read for directors, senior managers, shareholders and anyone else interested in how companies are run and how to make them perform better.
1David Larcker is James Irvin Miller Professor of Accounting at the Stanford Graduate School of Business. He directs the Corporate Governance Research Program at the Stanford Graduate School of Business. Brian Tayan is a case writer at the Stanford Graduate School of Business. His work focuses primarily on corporate governance, although he has also written cases in the areas of financial accounting, human resource management, operations, and strategy.