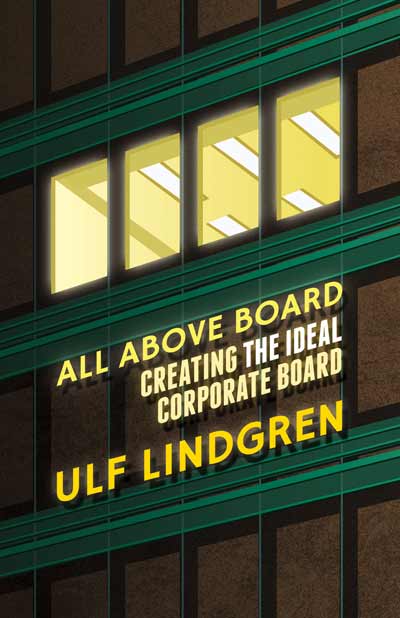 Title: All Above Board: Creating the Ideal Corporate Board
Author: Ulf Lindgren
Publisher: Palgrave Macmillan
Publication date: July 2013
ISBN 13: 9781137264251
Formats: Hardcover; Kindle; Ebook (EPUB); Ebook (PDF)
Rating: 3.5/5
---

The late Professor Ulf Lindgren's book All Above Board was released in July 2013. My late review is due to an initial reaction when I read the first few chapters that there was nothing new in Lindgren's work. However, upon returning to the book, I found it did have something to offer in terms of practical advice for boards. For example, as the author points out, it is rare for the CEO and management team to ask what the board could do for them in terms of resource commitments as a key input to the strategic planning process – usually 'the board expects the management team to deliver and the board to monitor and evaluate the deliverables' (p. 134).
The research behind the book came after a discussion between Lindgren and his colleague Professor Peter Lorange, who shared Lindgren's frustration with the 'lack of a strategic focus and value creation focus amongst so many of the boards where we had or continued to serve on' (p. x). The project that followed saw Lindgren conduct interviews with 48 board chairs, 22 senior board members, and over 50 CEOs of large corporations mainly in Europe and North America including leading multinationals such as Volvo, e-Bay, Tesco, Goldman Sachs, UBS and Unilever. He found that '[i]n many corporations, the Board of Directors are simply not performing to their full potential' (p. 6). As Lindgren notes in his discussion of the board of the future (p. 12):
There is a clear pattern that many boards tend to be satisfied with the existing way things are being done, as long as the performance of the business is in line with what other comparable businesses are doing. Yet, truly successful companies go beyond that and their boards tend to be asking for even more all the time. They are never satisfied to be 'as good as the best'. As one chairman put it to us: 'Benchmarking is for losers. The winners are those who create the Gap.
Key lessons to emerge from Lindgren's research include:
'change is possible' – boards can add more value to their organisations
'the board should take an active role in strategy'
'the board should act as a guide and leader for the company in times of change and disruption'
'the board should act as one team'
'create a tandem at the top' – the chair and CEO should work as a team of two, i.e. in tandem.
For directors or managers seeking insights into leading practice governance, All Above Board is well worth a look.