Title: Backstabbers and Bullies: How to Cope with the Dark Side of People at Work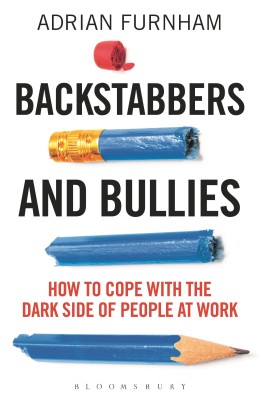 Author: Adrian Furnham
Publisher: Bloomsbury Information Ltd
Publication Date: 2015
ISBN: 9781472915528
Formats: Hardback
Rating: 5/5
---
Backstabbers and Bullies promises to provide the latest psychiatric and clinical perspectives on dark-side behaviour, including:
recognising and coping with over-confident, narcissistic and psychopathic leaders;
causes of leadership derailment and failure;
corrupt corporate cultures;
the nature of corporate culture today; and
the criminal personality.
The author, Adrian Furnham, is Professor of Psychology at University College London (UCL), so is well qualified to contribute to growing literature on the 'dark side' of corporate leadership, which has been popularised in works such as Paul Babiak and Robert Hare's Snakes in Suits.1 This dark-side behaviour is very much at odds with how corporate leaders have traditionally been portrayed as hardworking heroes and saints, but is certainly in keeping with the experiences of many who work in a corporate environment. Indeed, many readers will be able to recognise the personality types discussed by Furnham from personal experience with toxic senior managers, executives and CEOs who can make the lives of their employees a living hell in extreme circumstances. As Furnham (p. 1) writes:
The book is about executives who undermine and destroy the effectiveness of the 'top team' and the board, as well as senior managers who adversely affect the well-being of those around them.
From a governance perspective, the book explains how directors can better understand, manage and prevent dark-side behaviour in the board's one employee, the CEO, as well as presenting advice for reducing derailment potential for themselves, their fellow board members and the organisation as a whole. For example, as Furnham explains, bad managers and CEOs cannot survive without a corporate culture that condones their behaviour, or at the very least turns a blind eye. As such, poor corporate culture is now attracting scrutiny from corporate regulators, as evidenced in a recent speech by the chair of the Australian Securities and Investments Commission (ASIC) Greg Medcraft, who rightly says, '[c]ulture matters to ASIC because poor culture can be a driver of poor conduct'.2
Boards have responsibility for oversight of corporate culture, but while culture starts at the top of the organisation with the board, the single biggest influence it can have on culture is through the hiring, firing and performance assessment of the CEO. Certainly, the identified need for a change in organisation culture should play a part in the selection of a new CEO. At the management level, a poor culture is not helped by failure on the part of the CEO to weed out bad managers. But, as Furnham (p.259) points out, 'failed CEOs cannot admit that they have made bad staff decisions, a problem in the intrapersonal domain', which is exacerbated by them having their own 'dark-side tendencies'.
What I particularly liked about Backstabbers and Bullies is how Furnham brings together the work of others in this area. For example, he recognises the contribution of David Dotlich and Peter Cairo in their excellent 2003 book Why CEOs Fail,3 which describes the most common characteristics of derailed top executives and how you can avoid them. These 'avoidable' behaviours, which correspond to the derailers set out in the highly respected Hogan Development Survey (HDS),4 are:
Arrogance—you think that you are right, and everyone else is wrong.
Melodrama—you need to be the centre of attention.
Volatility—you are subject to mood swings.
Excessive Caution—you are afraid to make decisions.
Habitual Distrust—you focus on the negatives.
Aloofness —you are disengaged and disconnected.
Mischievousness—you believe that rules are made to be broken.
Eccentricity—you try to be different just for the sake of it.
Passive Resistance—what you say is not what you really believe.
Perfectionism—you get the little things right and the big things wrong.
Eagerness to Please—you try to win the popularity contest.
So what is the answer to this? For organisations, it involves 'better selection, training and coaching as well as putting into place systems that monitor early signs of derailment' (Furnham, p. 259). For the board, this means culture key performance indicators (KPIs) it can monitor. These KPIs include:
Employee survey results;
Employee whistleblower hotline calls;
CEO and management performance assessment;
Data from specific culture areas, e.g. WHS, compliance.
In summary, I would recommend this book for directors, managers and those interested in the health of our organisations. Unlike many business books, which you can usually stop reading after the introductory chapter because everything else is just a rehash with a few case studies, Backstabbers and Bullies is packed with insights from start to finish.
Notes
1 Babiak, P. & Hare, R.D., 2006, Snakes in Suits: When Psychopaths Go to Work, HarperCollins, New York.
2 Medcraft, G., 2015, Corporate culture and corporate regulation, a speech to the Law Council of Australia BLS AGM seminar (Melbourne, Victoria) 20 November 2015, available www.asic.gov.au/about-asic/media-centre/speeches/corporate-culture-and-corporate-regulation/.
3 Dotlich, D.L. & Cairo, P.C., 2003, Why CEOs Fail: The 11 Behaviors That Can Derail Your Climb to the Top and How to Manage Them, Jossey-Bass, San Francisco, CA.
#Reference 14 On the Hogan Development Survey, see www.hogandarkside.com/. Due to their usefulness, we use the derailers as the basis of the behavioural elements in our board and individual director reviews.