Title: Boards That Lead: When to Take Charge, When to Partner, and When to Stay Out of the Way
Authors: Ram Charan, Dennis Carey & Michael Useem
Publisher: Harvard Business Press
Publication date: December 2013
ISBN 10: 1422144054
ISBN 13: 9781422144053
Formats: Hardback; Kindle
Rating: 3/5
---
Boards That Lead is written by three leading experts in the field of corporate governance and focuses on how boards can create rather than destroy value for the organisations they govern it. As the authors note:
Too often, directors remain one of the most valuable but least utilized of a company's assets. Smart, experienced, and dedicated men and women are ready to serve. They are sworn to protect and advance the enterprise, to ensure that it does what is best for customers and investors. Yet their wisdom and guidance are still too often closeted in the boardroom.
This does not mean that the board becomes involved in micromanagement, but 'it does require directors to educate and interest themselves in company strategy, risk management, and talent development (p. 7)'. As such, the authors lay out two clear rules for boards:
Boards should provide strategic advice to management.
Boards should focus on getting their relationship with the CEO right. This means not just monitoring the CEO's performance, but rather to mentor the current CEO and be on the lookout for successors to the CEO position both inside and outside the organisation.
As Charan and his co-authors note, there has been a revolution in corporate governance over the past 25 years. Up until the late 1980s and early 1990s, most boards were operating as 'ceremonial' boards. These boards were traditionally elected on a 'who-knows-who' basis and performed a mainly compliance role. CEOs were rarely challenged on significant issues and directors were expected to rubber stamp management proposals. Often little more than attending the board meetings was required for directors to meet their obligations to the company. Therefore, the power structure was largely in favour of the CEO. This often led to abuse of privilege, conflicts of interest, and lack of sufficient board oversight of risk management or internal controls.
In Australia, the corporate governance revolution began in the aftermath of the crash of 1987, which saw the demise of companies such as Alan Bond's Bond Corporation, Christopher Skase's Qintex Group and Robert Holmes à Court's Bell Group. At this time, politicians, regulators, investors and the general public began to seek greater accountability from corporations – to the shareholders, other stakeholders and to society at large.
Further economic downturns followed the crash of 1987. The dot-com bubble of 2000 lead to the demise of Enron, WorldCom, HIH Insurance, One.Tel and Ansett Airlines, among others. The Global Financial Crisis (GFC) of 2008 resulted in casualties such as ABC Learning Centres, Centro Properties Group and Lehman Brothers. As each crash has occurred, the calls for better corporate governance have increased.
Yet, it is not just corporate failures resulting from ill-advised strategies that are brought undone by economic downturns that have led to these calls for increased corporate accountability. A number of boards have hit the headlines with significant reputational damage for both the organisation and individual directors. Examples include the very public falling out of the National Australia Bank board in 2004, the inquiry and courts cases surrounding the James Hardie Board and its actions with respect to its asbestos liabilities, the actions of the Australian Wheat Board (AWB) in the oil-for-food scandal which also came to light in 2004, and the public attention on the David Jones board following the resignation of the CEO as a result of sexual harassment claims in 2010.
A central feature of this governance revolution is the increased scrutiny and accountability being placed on directors, both individually and collectively, to take responsibility for the actions and performance of the organisations which they direct. With this in mind, Charan, Carey and Useem see an emerging model of governance in which boards take leadership in some areas such as CEO selection, partner with management or monitor in other areas, and stay out the way in areas such as strategy execution (see Figure 1).
Figure 1: When to lead, partner, monitor or stay out of the way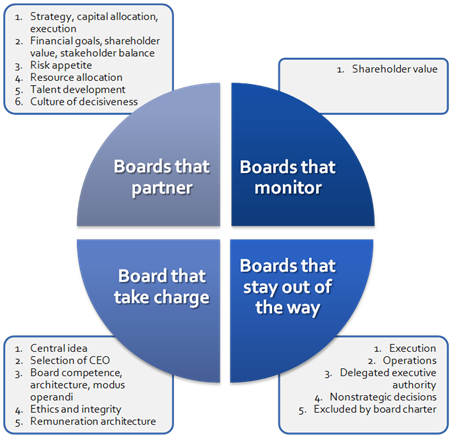 Adapted from Charan, Carey & Useem, 2013, p. 22
With respect to taking charge, the book seeks to explain how boards can:
Define the central idea of the company
Ensure that the right CEO is in place and potential successors are identified
Recruit directors who add value
Root out board dysfunction
Select a board leader who deftly bridges the divide between management and the board
Set a high bar on ethics and risk.
The concept of a company's 'central idea' (number 1 in the above list) is described by the authors as follows:
The central idea of a corporation is the seed that blossoms into a clear framing of the company's full-blown strategy and the many implications for how to execute it. It is an animating force from which hundreds of strategic and operational details emanate. The central idea references why the company exists, whom it serves, how it should be nurtured, why it will flourish, how it will make money and manage risk, and where it must be going if it is to sustain a competitive presence and achieve its broader purpose. The central idea is the bedrock on which the enterprise is raised and how its resources are spent. The central idea is practical, readily translated into action. It is simple—no more than several hundred words—tangible, graphic, not lofty. One can feel it and picture it (p. 29).
As a concept, the central idea reminds me of Collis and Rukstad's (2008) 'strategy statements', which are simple and clear statements of strategy that everyone in an organisation can understand and implement. This is one of the main issues I have with Boards That Lead, there is nothing really new in it. For example, it has long been recognised that boards have a role to play in strategy, CEO succession planning and mentoring the CEO. Many books, including those of Charan (2005; 2009) himself, Carter and Lorsch (2004), Kiel, Nicholson, Tunny and Beck (2012), and Nadler, Behan and Nadler (2006) go over much the same ground.
As with many Harvard Business Review Press publications, the book is padded with numerous case studies from the authors' experience working with executives and directors from dozens of the world's largest firms, including Apple, Boeing, Ford, Infosys and Lenovo. While the authors do point out that their argument is drawn from Fortune 500 companies, they do believe rationale behind it is easily translatable to small to medium enterprises, not-for-profits and public sector organisations 'regardless of the national setting' (p. 6). This may be true, but for boards that are not in corporate America, it may seem a stretch given that the decisions for the players involved are often in the billions of dollars and their world is far removed that of a small to medium enterprise in Australia, for example.
Overall, there is nothing wrong with Boards That Lead, it is just that it is saying nothing that hasn't been said before and I would not recommend rushing out to buy it in the expectation of any startling insights if you have any of the books noted above.
References
Carter, C. B. & Lorsch, J. W. 2004. Back to the Drawing Board: Designing Corporate Boards for a Complex World. Boston: Harvard Business School Press.
Charan, R. 2005. Boards That Deliver: Advancing Corporate Governance from Compliance to Competitive Advantage. San Francisco, CA: Jossey-Bass.
Charan, R. 2009. Owning Up: The 14 Questions Every Board Member Needs to Ask. San Francisco: Jossey-Bass.
Collis, D. J. & Rukstad, M. G. 2008. 'Can You Say What Your Strategy Is?', Harvard Business Review, 86(4), 82-90.
Kiel, G., Nicholson, G., Tunny, J. A. & Beck, J. 2012. Directors at Work: A Practical Guide for Boards. Sydney: Thomson Reuters.
Nadler, D. A., Behan, B. A. & Nadler, M. B. (eds.) 2006. Building Better Boards: A Blueprint for Effective Governance. San Francisco: Jossey-Bass.