Title: The End of Competitive Advantage: How to Keep Your Strategy Moving as Fast as Your Business
Author: Rita Gunther McGrath
Publisher: Harvard Business Review Press
Publication Date: 2013
ISBN-10: 1422172813
ISBN-13: 978-1422172810
Formats: Hardback; Kindle
Rating: 4/5
---
Rita Gunther McGrath is a Columbia Business School professor and a globally recognised strategy expert. She is also a Fellow of the Strategic Management Society, an honour only accorded to those who have had a significant impact on the field. Thus, what she says is worth reading and even if you do not agree with some of her ideas, there should still be something in her new book, The End of Competitive Advantage, that will make you think differently about your approach to strategy in the future. She begins with a simple premise:
Strategy is stuck. If you dropped into a boardroom discussion or an executive team meeting, chances are you'd hear a lot of strategic thinking based on ideas and frameworks designed in, and for, a different era.
McGrath, 2013, p. xi
Indeed, as Ruth Gunther McGrath (2013: xi) explains:
[V]irtually all strategy frameworks and tools in use today are based on a single dominant idea: that the purpose of strategy is to achieve a sustainable competitive advantage. This idea is strategy's most fundamental concept. It's every company's holy grail. And it's no longer relevant for more and more companies.
Sustainable competitive advantage is now becoming the exception, not the rule. While the author does recognise the ongoing importance of tools such Michael Porter's five forces analysis, BCG's growth-share matrix and Hamel and Prahalad's core competencies, which still inform strategy development today, she does emphasise that competitive advantage is a constantly moving target and the most successful companies are agile ones. This is not a new idea and McGrath owes much to the concept of 'disruptive innovation', a term coined by Clayton Christensen to describe the process by which a product or service takes root initially in simple applications at the bottom of a market and then relentlessly moves up market, eventually displacing established competitors1. For example, universities worldwide are now under significant threat from massively open online courses (MOOCs), which are internet-based teaching programs designed to handle thousands of students simultaneously.
Companies now need to find ways of leveraging temporary advantages and to remain fluid and innovative enough to change tack when those advantages no longer remain. Sony, Research In Motion (RIM) – the makers of BlackBerry – and Blockbuster video are examples of firms that have suffered because they did not recognise the transient nature of competitive advantage.
The book serves as a 'playbook' for strategy that is based on updated assumptions about how the world works, and shows how some of the world's most successful companies use this method to compete and win today. McGrath argues that companies need to increasingly compete with waves of temporary or transient competitive advantage rather than sustainable competitive advantage. As shown in the figure below, there are five phases (launch, ramp up, exploit, reconfigure, and disengage) that exist in each wave of advantage, and the author stresses that although exploitation of a transient advantage is advantageous for a period of time, excessive build-up of assets and people should be prevented as much as possible so that barriers to moving on to the next advantage are minimised.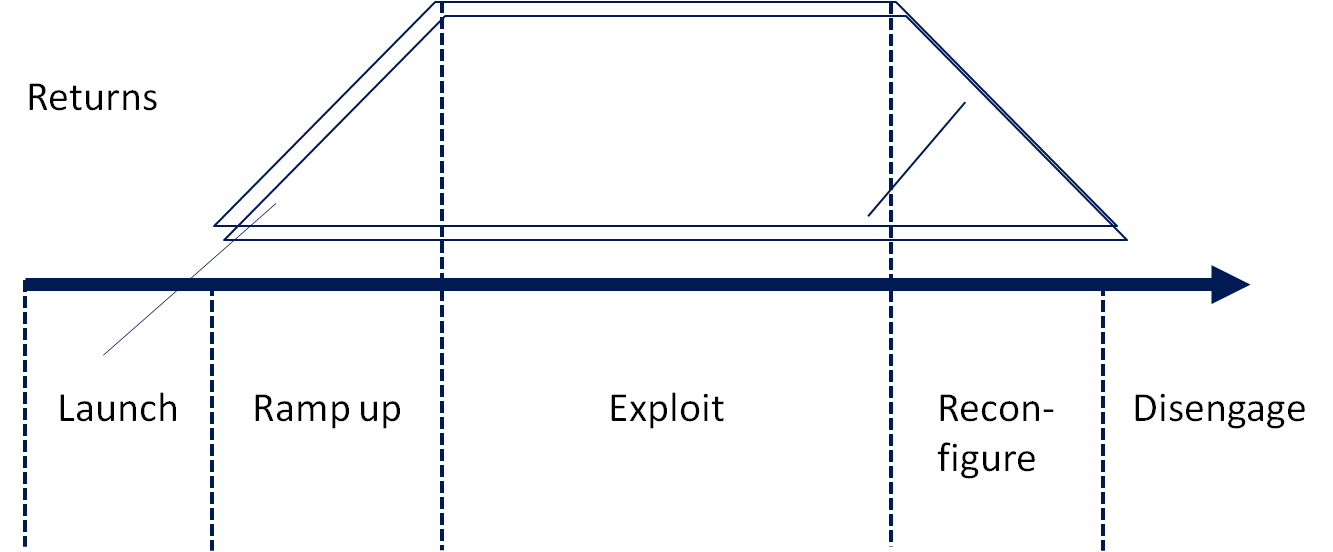 Source: McGrath, 2013, p. 13
During the launch phase, the organisation identifies an opportunity and mobilises resources to capitalise on it. In this phase, the company needs people with ideas, who are comfortable with experimentation and iteration. In the next phase, ramp up, the business idea is brought to scale. This period calls for people who can assemble the right resources at the right time with the right quality and deliver on the promise of the idea. Then, if a company is fortunate, it begins a period of exploitation, in which it captures profits and market share, and forces its competitors to react. At this point, a company needs people who are good at analytical decision-making and efficiency. Often, the very success of the initiative leads to competition and a weakening of the company's advantage. So the organisation then has to reconfigure what it is doing to keep the temporary advantage fresh. Reconfigurations require people who are not afraid to radically rethink business models or resources. As the advantage wanes, the leadership begins to look at disengagement strategies in an effort to identify the new opportunity(ies) that it will pursue.
Filled with examples from 'growth outlier'2 firms such as Fujifilm (Japan), Cognizant Technology Solutions (US), Infosys (India) and Atmos Energy (US), The End of Competitive Advantage is marketed as a guide to renewed success and profitable growth in an economy increasingly defined by transient advantage.
The new strategy playbook is set out chapter by chapter and the key points can be illustrated using the following table from the book.
THE NEW STRATEGY PLAYBOOK

From
To
Continuous reconfiguration (Chapter 2)
Extreme downsizing or restructuring
Continuous morphing
Emphasis on exploitation phase
Equal emphasis on entire wave
Stability or dynamism alone
Stability combined with dynamism
Narrowly defined jobs and roles
Fluidity in allocation of talent
Stable vision, monolithic execution
Stable vision, variety in execution
Healthy disengagement (Chapter 3)
Defending an advantage to the bitter end
Ending advantages frequently, formally and systematically
Exit viewed as strategically undesirable
Emphasis on retaining learning from exits
Exits occur unexpectedly and with great drama
Exits occur in a steady rhythm
Focus only on objective facts
Focus on subjective early warnings
Using resource allocation to promote deftness (Chapter 4)
Resources held hostage in business units
Key resources under central control
Squeezing opportunities into the existing structure
Organising around opportunities
Attempts to extend the useful life of assets for as long as possible
Aggressive and proactive retirement of competitively obsolete assets
Terminal value
Asset debt
Capital budgeting mind-set
Real options mind-set
Investment-intensive strategic initiatives
Parsimony, parsimony, parsimony
Ownership is key
Access is key
Build it yourself
Leverage external resources
Building an innovation proficiency (Chapter 5)
Innovation is episodic
Innovation is an ongoing, systematic process
Governance and budgeting is done the same way across the business
Governance and budgeting for innovation separate from business as usual
Resources devoted primarily to exploitation
A balanced portfolio of initiatives that support the core, build new platforms, and invest in options
People work on innovation in addition to their day jobs
Resources dedicated to innovation activities
Failure to test assumptions; relatively little learning
Assumptions continually tested; learning informs major business decisions
Failures avoided and not discussable
Intelligent failures encouraged
Planning orientation
Experimental orientation
Begin with our offerings and innovate to extend them to new areas
Begin with customers and innovate to help them get their jobs done
Leadership and mind-set (Chapter 6)
Assumption that existing advantages will persist
Assumption that existing advantages will come under pressure
Conversations that reinforce existing perspective
Conversations that candidly question the status quo
Relatively few and homogeneous people involved in strategy process
Broader constituencies involved in strategy process, with diverse inputs
Precise but slow
Fast and roughly right
Prediction oriented
Discovery driven
Net present value oriented
Options oriented
Seeking confirmation
Seeking disconfirmation
Talent directed to solving problems
Talent directed to identifying and seizing opportunities
Extending a trajectory
Promoting continual shifts
Accepting a failing trajectory
Picking oneself up quickly
Personal meaning of transient advantage (Chapter 7)
Emphasis on analytical strategising
Emphasis on rapid execution
Organisational systems
Individual skills
A stable career path
A series of gigs
Hierarchies and teams
Individual superstars
Infrequent job hunting
Permanent career campaigns
Careers managed by the organisation
Careers managed by the individual
Source: McGrath, 2013, pp. 19-20
Overall, The End of Competitive Advantage sees a strong future for strategy, but makes it clear that the quest 'sustainable competitive advantage' could be dangerous for companies in the long run. As such, it is vital reading for boards, managers and strategy advisors.
---
1 See, for example, Christensen, C.M., 1997, The Innovator's Dilemma: When New Technologies Cause Great Firms to Fail, Boston, MA: Harvard Business School Press.
2These are companies with a market capitalisation of over US$1 billion that had a revenue growth threshold of 5% every year.