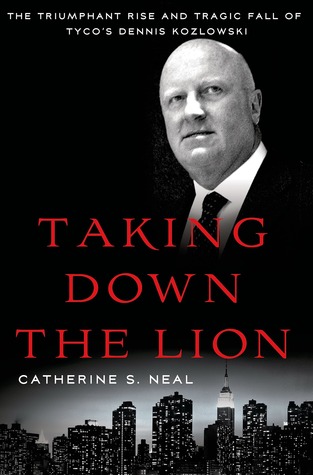 Title: Taking Down the Lion: The Triumphant Rise and Tragic Fall of Tyco's Dennis Kozlowski
Author: Catherine S. Neal
Publisher: Palgrave Macmillan
Publication Date: January 2014
ISBN: 978-1-137-27891-3
ISBN 10: 1-137-27891-9
Formats: Hardback; Kindle
Rating: 3/5
---
Former Tyco International CEO L. Dennis Kozlowski's career is certainly one of great highs and lows. Under his leadership, Tyco had grown from a small New Hampshire company into a huge multinational with 250,000 employees and annual revenue of US$40 billion. However, Kozlowski became infamous when he was fired in 2002 after being charged with evading sales taxes on the purchase of artworks, although those charges were later dropped.
Accusations of siphoning millions from the company to buy yachts, Monets, Renoirs and luxury apartments including a US$30 million Fifth Avenue apartment, which featured a US$6,000 shower curtain and a US$15,000 poodle-shaped umbrella stand, did nothing to help Kozlowski in the court of public opinion, especially at a time when the US was in midst of the Enron and WorldCom bankruptcies. Also infamous, was the US$2.1 million, 40th birthday party for his second wife, Karen, for which Tyco paid half the costs. Kozlowski flew 75 friends to Sardinia for the party, which included special touches such as an ice sculpture of Michelangelo's David dispensing Stolichnaya vodka through his penis, a huge cake with exploding breasts and a US$250,000 rendition of 'Margaritaville' by singer/songwriter Jimmy Buffet. He funded his lavish lifestyle partly through loans from Tyco's Key Employee Loan Program (KELP), which was designed to help hold on to Tyco stock.
Kozlowski was subsequently indicted on serious felonies related to his management of Tyco. Along with then Tyco CFO Mark Swartz, Kozlowski allegedly took more than US$100 million in remuneration that was not approved by the Tyco board. Kozlowski spent more than eight years as an inmate in the New York State prison system. He was granted parole in December 2013 and released in January 2014, which coincided with the publication of Catherine S. Neal's Taking Down the Lion.
Neal is an Associate Professor of Business Ethics and Business Law at Northern Kentucky University. She is strident in her belief that Kozlowski is innocent of all the charges levelled at him (Neal, 2014, loc. 4934):
After spending countless hours with my head in this case, all I can say is oczywista. Translated from Polish, oczywista means it's obvious, unmistakable. The evidence in this case speaks for itself. I do not believe Dennis Kozlowski committed any crimes. I do not believe he ever intended to commit any crimes.
While she does her best to plead Kozlowski's case, her argument is weakened by Kozlowski's own words, especially what he told a New York State parole panel at a 3 December 2013 video conference hearing prior to his parole: 'It was greed, pure and simple … I feel horrible … I can't say how sorry I am and how deeply I regret my actions (quoted in Freifeld, 2013).' Similarly, Kozlowski had told the parole board in 2012, at which time he was denied release: 'Back when I was running Tyco, I was living in a CEO-type bubble. I had a strong sense of entitlement at that time' (quoted in Saul, 2013).
While Neal's belief that Kozlowski was innocent can be called naive, it is true that he may have been given a raw deal given the way the board operated at the time. As Neal reveals, the board, which was riddled with conflicts of interest, gave Kozlowski free rein to run the company, but when things got rough, it turned on him. Governance expert Robert Monks, who served on Tyco's board from 1985 to 1994 (before Kozlowski's extravagance began), stated that the board gave Kozlowski 'no protection from his own worse instincts' (Neal, 2014, loc. 1224). In fact, 'the weak, dysfunctional Board of Directors' is at the top of Neal's list for what went wrong at Tyco (loc. 4673). For example, the minutes of board meetings were not reliable guides to the decisions made:
In May of 2001, the Board of Directors approved the sale of $2 billion of Tyco stock to Lehman Brothers. There was a press release to this effect but absolutely no reflection of the Board's approval in the meeting minutes. A two billion dollar sale of stock, and not a single mention in the Board's meeting minutes. It seems no decision was too big to be excluded (Neal, 2014, loc. 3920).
Overall, the book makes fascinating reading from a corporate governance perspective since it is yet another example of what not to do in the boardroom, but it falls flat in that Dennis Kozlowski himself admits he was at fault. However, the author does offer some good advice for both boards and CEOs beginning with the need to 'document everything' and 'be mindful that you can't delegate personal accountability' (Neal, 2014, loc. 4950). Another important and rather obvious tip is not to 'take advantage of loose company policies and lax governance'. However, whether such snippets of wisdom are worth the cost of the book or time it takes to read is questionable.
References
Freifeld, K., 2013, 'Ex-Tyco CEO Kozlowski says he stole out of pure greed', Reuters, www.reuters.com/article/2013/12/05/us-tyco-kozlowski-release-idUSBRE9B417820131205 (accessed 14 May 2014).
Saul, J., 2013, 'NY to free ex-Tyco exec Dennis Kozlowski on parole', New York Post, 3 December, http://nypost.com/2013/12/03/ny-to-free-ex-tyco-exec-dennis-kozlowski-on-parole/ (accessed 14 May 2014).