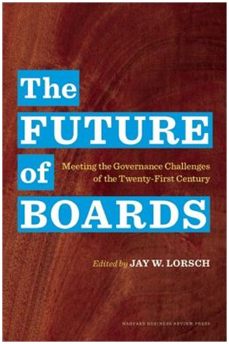 Title: The Future of Boards: Meeting the Governance Challenges of the Twenty-First Century
Author: Jay Lorsch
Publisher: Harvard Business Review Press
Publication Date: 2012
ISBN: 978-1422183212
Formats: Hardback; Kindle
Score: 4/5
---
Over the past two decades boards have adopted various 'best practices',' which are aimed at making them more effective in using their limited time, assuring they receive adequate information, dealing with the complexity of group decision making and improving their relationship with their CEOs. Some of these practices are now matters of legislation, regulation or listing requirements; for example, the existence of particular committees (e.g. audit and remuneration).
Boards have adopted other practices because they improve their functioning, e.g. CEO evaluation. During that time, the world has become a much more complex place brought about by technological changes and globalisation. The question which confronts all concerned with corporate governance now, is whether current leading practice by boards will be sufficient to meet the challenges facing companies in the remaining decades of the twenty-first century. This is the question 'The Future of Boards' strives to answer.
Professor of Human Relations at the Harvard Business School and editor of 'The Future of Boards', Jay W. Lorsch, is an internationally recognised expert on boards of directors and the author of two highly influential books about boards: 'Pawns or Potentates: The Reality of America's Corporate Boards' (with Elizabeth MacIver, 1989) and 'Back to the Drawing Board: Designing Boards for a Complex World' (with Colin B. Carter, 2003). For 'The Future of Boards', Lorsch has called on his Harvard colleagues to look to the future of corporate governance as well as ways to solve the current issues facing boards in the coming years such as the board's strategy role, CEO succession and boardroom dynamics.
As this chapter list highlights, the book covers a wide range of issues for boards:
Boardroom challenges: lessons from the financial crisis and beyond – Jay W. Lorsch
Focusing on strategy to govern effectively – Krishna Palepu
Managing your CEO's succession: the challenge facing your board – Joseph L. Bower
The pay problem: time for a new paradigm for executive compensation – Jay W. Lorsch and Rakesh Khuran
Board governance depends on where you sit – William George
Recognizing negative boardroom dynamics – Katharina Pick and Kenneth Merchant
The argument for separate chair – David A. Nadler
The argument for lead director – Raymond Gilmartin
While this book is written from the perspective of US corporate boards (as highlighted by Nadler's chapter on the arguments for a separate chair), there is still much that can be translated to an Australian context for both for-profit and not-for-profit organisations. For example, Pick and Merchant's discussion of negative boardroom dynamics will resonate with many Australian directors.