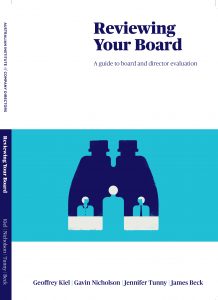 Book: Reviewing Your Board: A Guide to Board and Director Evaluation
Authors: Geoffrey Kiel, Gavin Nicholson, Jennifer Ann Tunny, James Beck
---
Performance evaluation has become an important issue for boards, directors and the organisations they lead, and board evaluations are now commonplace for many boards. This is due to regulatory requirements for some boards as well as leading practice guidance, which recognise that there are performance benefits to organisations when their board is willing to engage in an open and honest appraisal of its own performance. However, where these evaluations are merely a routine or 'tick-the-box' exercise, the board will fail to address any performance issues faced by the board and individual directors such as dysfunctional boardroom dynamics.
Written by experts with over 25 years' experience working with Australian boards and conducting over 1,000 board reviews, Reviewing Your Board is a practical guide that can be used to develop an evaluation process that best meets the needs of the board in any organisation be it an ASX-listed company, not-for-profit or charity, APRA-regulated entity, private company, government entity, member organisation or family company.
The centrepiece of the book is a seven-step framework for developing a board evaluation process that considers the key questions that are relevant to all boards implementing an evaluation. For example, it is critical that the board establish its objectives for the evaluation, those objectives then need to be supported by evaluating the right people (e.g. the board as a whole, individual directors, the chair, committees), on the right topics, with data drawn from the right sources, by the right person/people, using the right techniques. Another important component of this book is the focus on implementation issues. While reaching agreement on the results of a board evaluation is important, implementing the agreed direction is critical to its overall success.
Diagrams, tables, checklists and practical examples are used throughout to illustrate the concepts developed in the book. Sample questionnaires are also provided that can be used to evaluate boards, committees and individual directors. Additionally, the book provides a comprehensive set of tools and supporting material including:
Board-as-a-whole questionnaire
Chair questionnaire
Committee questionnaire
Individual director self and peer questionnaire.
Reviewing Your Board is now available for purchase on the Australian Institute of Company Directors' website.