By Zac Zahner
In the wake of the Coronavirus (COVID-19) pandemic, many boards will find they not only need to re-examine their strategic plans, but also the skills mix in the boardroom needed to respond to the new challenges they face in a post-pandemic world. Often, this means bringing new skills and perspectives into the boardroom to meet the demands of the organisation's strategic environment. Key questions to answer before director recruitment begins include:
What is our current skills profile?
What skills do we need in the future and at what level?
Where are our gaps?
How do we fill those gaps?

New board members?
Professional development?
These questions cannot be answered fully without understanding the organisation's strategic direction. It is important to match board recruitment the requirements of the strategic plan. Ideally, this is addressed following completion of the annual strategic planning process. The board should review the mission, vision, values and goals and core strategies (see Figure 1 for our strategic planning model and the questions the board should know the answers to) to determine any new skills, knowledge, personal contacts and other attributes future board members need to possess in order for the board to advance the strategic plan.
Figure 1: Strategic planning model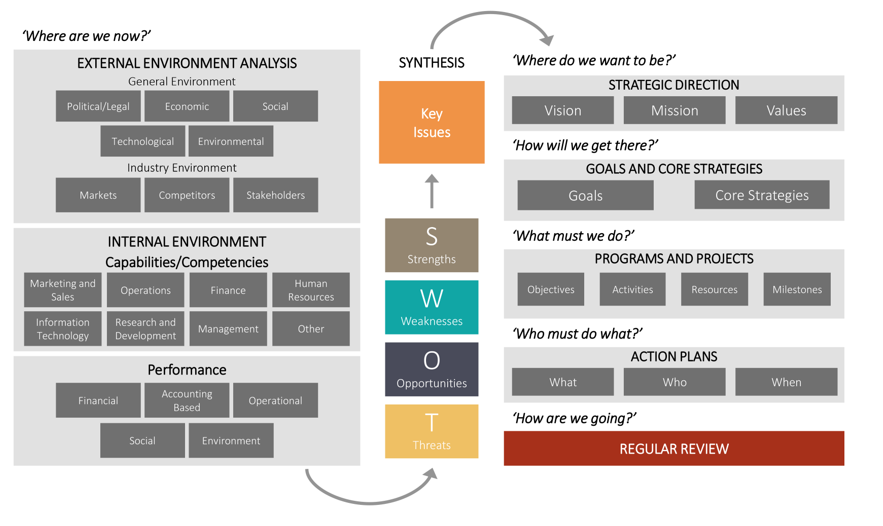 The day-to-day implementation of strategy is the role of management. Effective boards draw on the collective experience and wisdom of their directors to contribute to the overall strategic direction of the organisation. Considering strategy in the context of director recruitment should raise further questions such as:
Do we as directors have enough involvement in the strategic planning process?
Are we spending enough time discussing strategy at board meetings?
Do the relationships in the boardroom encourage candid discussion of strategic issues?
Has the board's mix of skills allowed strategy to be appropriately considered?
If 'no' is an answer to any of these questions, the board should look to improve its approach to strategy by recruiting suitable directors to address these matters.
Building the right board
Building the right board requires an understanding of director competencies, that is, their experience, skills, attributes and capabilities, which includes:
Industry experience and knowledge, for example:

Education sector experience for the board of an independent school
Disability sector experience for the board of an NDIS service provider
Property development experience for the board of a housing association

Technical and professional qualifications and experience, for example:

Legal skills demonstrated through a degree to enable the director to provide the board with their perspective on legal issues
Accounting skills through a degree to enable the director to review financial information and provide their perspective on financial issues

Governance knowledge, skills and abilities, for example:

Financial literacy
Strategic planning
Risk management orientation
Assessing organisational effectiveness

Behavioural competencies—both personal and interpersonal—which provide the platform for most work and governance roles, for example:

Integrity
Interpersonal skills
Conceptual and critical thinking
Effective communication skills.[1]
Developing a skills-based board means balancing these areas of competency to ensure they are not too heavily skewed in one area; for example:
…while industry knowledge and expertise are important, mindsets, propensities and dispositions matter as much if you want to develop a strategically active board.[2]
A skills analysis is the best way to discern what skills the board currently has and what skills it needs for the organisation's short-, medium- or long-term strategy. Ideally, participants in a skills analysis will be asked to assess their own level of competency with each level set out to guide the responses, as well as considering the future competency requirements of the board for the skill and how many directors should possess this skill. Obviously, fully mapping out each competency required for the board requires substantial work; however, changes to the board's skills mix should outweigh the cost in terms of board effectiveness.
Table 1 is an example of the type of candidate requirements a skills analysis can reveal. These requirements can then inform the director selection process.
Table 1: Example of identified candidate requirements
Competency

Competency Level

Description

Charity and not-for-profit sector

Extensive

10 years or more experience in the charity/NFP sector
Experience in different areas of the sector via involvement with multiple charities/NFPs
Board experience in the charity/NFP sector
Extensive knowledge of the charity/NFP sector

Accounting

Extensive

Is a member of CPA Australia or the Institute of Chartered Accountants in Australia
Holds at least a Bachelor of Accounting or degree in a directly aligned discipline
Has worked extensively in accounting across medium to large organisations for a period of 10 years or more
Has experience with developing and reporting key accounts data in periodic reports
Has led a team with accounting responsibility for more than 7 years
Has advanced knowledge of accounting processes and standards
Proven ability to provide oversight and acknowledged high level advice on accounting processes
Is able to identify the tax implications applicable to operations and ensure compliance across an organisation
Has demonstrated an ability to think strategically about accounting across an organisation, enhancing performance as a result

Risk management

Operational

Has worked in the management of risk for 5 years or more
Has a working understanding of risk management functions including risk profiles and appetite statements, scenario planning, crisis management, risk identification/classification and similar functions
Holds at least a diploma or equivalent qualification in a related field, where risk was either an explicit focus or a major part of the coursework
Has a practical understanding of methodology and terminology used in risk management
Is familiar with risk management standards and frameworks such as ISO 31000
Can interpret data used to make decisions about risk
ISSUES IN DIRECTOR RECRUITMENT
Board plays limited role in recruitment
No link to strategic direction
Board unclear about its role
The board is dysfunctional and hoping for a quick fix
No director induction process or ongoing director development
Board has no director selection or succession planning policies
No recruitment criteria
Potential conflicts of interest
Director selection
It is recommended that the board have policies and procedures to:
establish and agree a list of qualities it considers desirable in potential directors;
ensure there is a process of review for these qualities to reflect changing situations;
account for likely changes to the board (e.g. upcoming retirements) in selection criteria; and
benchmark these qualities against what other boards expect of their directors.
In order to achieve a well-structured board, thought and planning must go into the selection of candidates for directorships. One way to focus on this is through the establishment of a nomination committee to undertake the selection process. In addition to formalising the selection process, some firms also use specialist consultants to assist in the process of director selection.
Figure 2 sets out a generic director selection and appointment process. To best understand a candidate's skills and potential 'fit' in the boardroom, the directors who form the nomination committee or selection panel should have the opportunity to meet with short-listed candidates. A key part of the recruiting process is assessing how well potential directors will work alongside the sitting directors – relying on a candidate's skills alone can undermine the benefits of bringing that person onto the board if they are not socially compatible with the current board members.
Figure 2: Director selection and appointment process

Successful boards use evaluations to assess the effectiveness of the board, its committees, the chair and individual directors. Current serving directors should not automatically be put forward for reappointment once their term of appointment ends. As many boards effectively determine who will be on the board, there should be an active and disclosed process of individual director evaluation prior to any existing director being supported by the board for re-election.
Conclusion
In summary, director selection decisions should come down to four factors:
Context – What is the strategic environment in which our organisation is operating – internal and external?
Capability – Is the mix of skills, experience and backgrounds on our board aligned with the overarching strategy?
Motivation – Do our current directors and director candidates have a passion for what they do? Why do they want to be on our board?
Readiness – Do the director candidates have the competencies that can fill gaps in the board's knowledge? Do they have the agility of thinking and communication skills needed to ask the right questions?
Fit – What is their working style and 'fit' with our board – will they work in a collegiate way and enhance board culture and discussions?
Answering the questions posed above will contribute significantly towards building a strategic board comprising suitably skilled directors.
---
[1] G. Kiel, G. Nicholson, J. Tunny, and J. Beck, 2018, Reviewing Your Board: A guide to board and director evaluation, Australian Institute of Company Directors, Sydney, pp. 165–166.
[2] M. Thuraisingham, 2019, Identity, Power and Influence in the Boardroom: Actionable strategies for developing high impact directors and boards, Routledge, Abingdon, Oxon, p. 48.