Effective Governance has just launched its new Governance Action Plan (GAP) www.eg-gap.com.au tool, which is an online check of how your governance is performing. It is free and easy to use. The GAP questionnaire consists of 20 questions based around the Corporate Governance Practice Framework® shown below.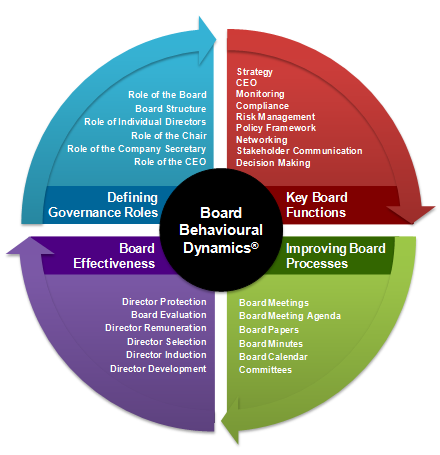 Source: Kiel, G, Nicholson, G, Tunny, JA & Beck, J, 2012, Directors at Work, Thomson Reuters, Sydney.
After completing the questionnaire, we will analyse your responses and provide you with a personalised report with recommendations as to how to improve your governance practices.
The results of the G.A.P. will represent your personal perception of how your governance system is performing. Your perception may differ from the perception others, so having your colleagues complete the survey will give you a more complete picture of how your organisation's governance shapes up.
Please note: Any personal information you provide when completing this survey will be protected by Effective Governance in accordance with the 13 Australian Privacy Principles (APPs) contained in Privacy Act 1988 (Cth).