To lack another's set of skills is not a criticism. What is important is to recognise the value and validity of other skills in other people and to combine the people with the necessary skills to attain the collective objective.
J.B. Reid, Commonsense Corporate Governance, Sydney: AICD, 2002
Board composition is a broad term that encompasses issues such as who is on the board and the skills mix of the board. It involves both structural and cultural issues and board effectiveness depends on obtaining the right mix of skills and experience. Board composition varies significantly between organisations and is influenced by:
Legal requirements including the organisation's constitution and purpose;
Board size;
The balance of executive and non-executive directors;
Director competencies;
Terms of office for directors; and
The structure of the shareholding or membership.
Stable boards with long-serving, committed members will have the advantage of a thorough knowledge of the organisation and its mission. However, it is important that the board represents and reflects the interests of its owners/members by injecting some new blood occasionally. Selecting new directors to build a board that is right for the organisation is not a simple task.
Director selection
More and more boards are engaging in more structured and professional processes for director selection. Such processes will generally take into account:
Alignment of skills with strategic direction;
Value added to the current board composition;
Cultural fit with the board;
Time it will take to be an effective contributor; and
Succession planning.
Building the right board requires an understanding of director competencies, which involves consideration of the directors' experience, skills, attributes and capabilities. Director competencies encompass two distinct areas: technical competencies and behavioural competencies. Technical competencies are a director's technical skills and experience ("what you need to know and are able to do") such as accounting or legal skills, industry knowledge, experience in strategic planning and corporate governance. Behavioural competencies are a director's capabilities and personal attributes ("how you apply what you know and your personal and interpersonal skills") and include, for example, linkages to the "ownership"; an ability to positively influence people and situations; an ability to assimilate and synthesise complex information; time availability; honesty and integrity; and high ethical standards.
Boards often pay less attention to director capabilities that may not be evident in a CV that lists the director's qualifications and experience. Consideration should therefore be given to whether the board needs a mix of directors who can:
Assimilate and synthesise complex information quickly;
Develop and deliver a cogent argument;
Be innovative and think beyond the square; and
Understand issues at both the detailed and "big-picture" level.
All directors need to have the ability to make points succinctly and effectively at board meetings and not be either the "silent" director who never speaks or the "loudmouth" director who seeks to dominate all discussions.
Prior to reappointing, nominating or appointing individuals as directors, the board should:
Consider what competencies and skills the board, as a whole, should possess, recognising that the particular competencies and skills required for one board may not be the same as those required for another;
Assess what competencies and skills each incumbent director possesses. Since it is unlikely that any single director will possess all the competencies and skills required, the board should be considered as a group in which each individual makes their own contribution;
Consider the character of directors and their fit with the current board culture. Some attributes worthy of consideration include self-awareness, integrity and high ethical standards. Boardroom dynamics will be impacted by the personalities and behavioural types present, so attention should also be paid to these qualities.
The table below shows a simple competency matrix that can be employed to assess the board's capability requirements against the mix of current directors.
Table: Board competency matrix example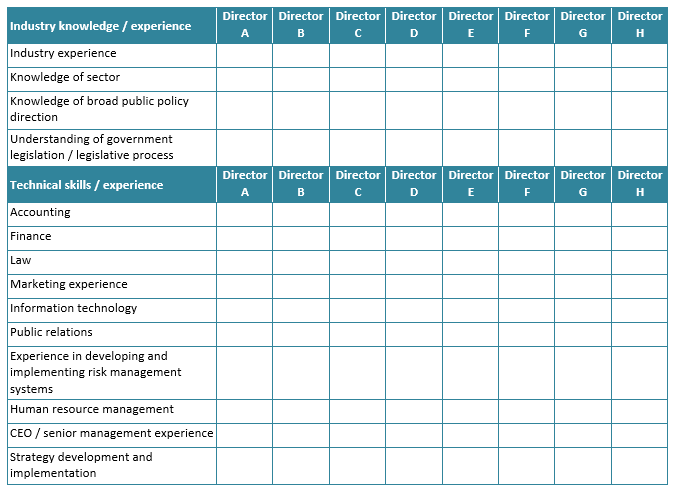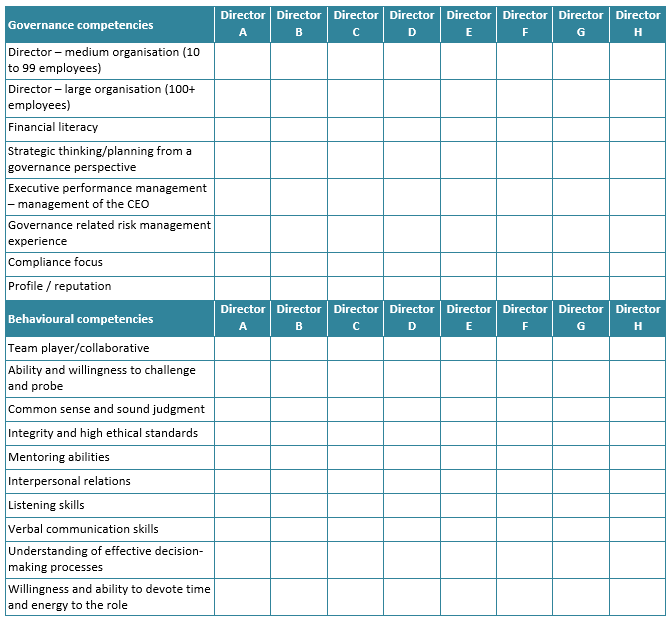 Source: Kiel, G., Nicholson, G., Tunny, J.A., & Beck, J., Directors at Work: A Practical Guide for Boards, Thomson Reuters, Sydney, 2012.
For more information on board skills/competency analysis, click here.