By: Ian Doyle and Melissa Grundy
Why a standard culture change program or engagement surveys are not the answer to mitigating People Risk.
Over recent months, APRA has ordered some of Australia's largest banks, superannuation funds and insurers to conduct culture reviews.[1] This should provide a strong signal to all boards of the need to more closely examine an area that may not have received sufficient attention in the past.
When boards have considered whether a culture review might be an appropriate course of action for their organisations, they often concluded that it is not necessary because a culture change program may already be underway or they regularly undertake engagement surveys. In fact, neither of these are solutions that will provide clear diagnostic insight into the People Risks currently facing the organisation and what the immediate actions are that can be taken to address these risks.
APRA is not providing this direction for altruistic motives. Rather, it is aware that the aberrant behaviour uncovered by the Royal Commission into Misconduct in the Banking, Superannuation and Financial Services Industry (Hayne Royal Commission) and the APRA review of the Commonwealth Bank of Australia (CBA) is unacceptable and must stop. As a result, a top priority for all boards, irrespective of the industry, should be quickly obtaining a clear understanding of the extent to which unacceptable behaviour may exist in their organisation so that proactive steps can be taken to stop it.
The answer is not a culture change program
It is not suggested that a culture change program is not a good idea. However, this is likely to involve a minimum three-year change program that will require absolute consistency in both leadership behaviour and systems alignment to achieve real results. Even then, there is no certainty about if, or when, the culture change will progress sufficiently to control aberrant organisational behaviour. In fact, less than one third of culture change programs are successful.[2]
An engagement survey is also not the answer
An engagement survey is a useful tool because there is a strong link between the culture of the organisation and the engagement of the people within it. However, an engagement survey has a very specific purpose – to identify the level of commitment employees have in relation to the organisation and to what extent they are prepared to apply discretionary effort[3] (being, the difference in the level of effort one is capable of bringing to an activity or a task, and the effort required only to get by or make do).[4] What an engagement survey is not designed to do is to identify aberrant behaviour.
The answer to mitigating aberrant behaviour is understanding People Risk
Staff behaviour is significantly influenced by the culture of an organisation, or in other words, 'the way things are done around here'. Staff behaviour is the single biggest driver of People Risk, which can be defined as the 'uncertainty and potential for loss due to unsanctioned behaviour or decisions of employees'. So, to have any chance of successfully mitigating aberrant behaviour it is essential to understand the relationship between culture, employee behaviour and People Risk (see Figure 1).
Figure 1: The relationship between culture, behaviour and People Risk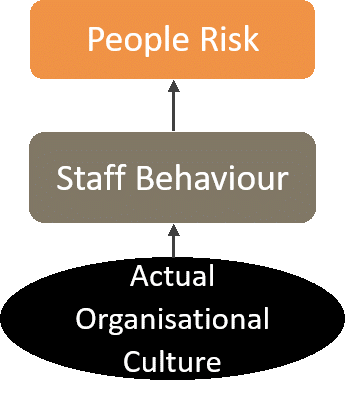 Through the identification and observation of staff behaviour, boards can be provided with clear insight into the resultant People Risk profile of the organisation and with proactive steps to manage and mitigate these risks. A People Risk diagnostic can be completed within two months.
In summary, a culture change program and an engagement survey are both very worthwhile and meaningful tools. However, for boards that want to avoid being the next corporate scandal, or focus of regulators or the media, understanding People Risk is vital to enable them to quickly move to address immediate risks. This activity can occur while conducting an engagement survey, or as a culture change program progresses.
[1] Roddan, M., 2018, 'APRA orders financial institutions conduct culture reviews', The Australian, 28 September, https://www.theaustralian.com.au/business/apra-orders-financial-institutions-conduct-culture-reviews/news-story/98254d8fcea9a059c50dd73c72d6327e.
[2] Lyons, R., 2017, 'Three Reasons why culture efforts fail', Forbes, 27 September, https://www.forbes.com/sites/richlyons/2017/09/27/three-reasons-why-culture-efforts-fail/#46a7af26e077.
[3] Kruse, K., 2012, 'What is employee engagement', Forbes, 22 June, https://www.forbes.com/sites/kevinkruse/2012/06/22/employee-engagement-what-and-why/#5b884a067f37.
[4] BusinessDictionary, [2018], s.v. 'discretionary effort', http://www.businessdictionary.com/definition/discretionary-effort.html.